INS Engineering & Consulting AG
We are a consulting company active in the area of Information & Communications Technology (ICT). As neutral and independent consultants, we support our customers with update-to-date knowledge, experience, and passion for their interests. Due to our culture we are a small, flexible company with a flat organizational structure.
We have worked independently and successfully for more than 20 years, and we bring a mix of local and international knowledge, competence and experience to the table. Our customer/reference list from a wide range of industries mirrors the competence and quality of our results.
We offer tailored services in the field of Information and Communication Technology (ICT) for both large enterprises and small-to-medium enterprises. Independence is our top priority. We act in your interest and without bias. We have been steadily developing our offers over the past few years. In order to optimally support you as a customer, we continuously adapt our services to the market environment and the individual customer needs.
INS AG offers IPv6 Expert members 5% discount on IPv6 services such as consulting, address planning, deployment etc.
One of our IPv6 reference customer is: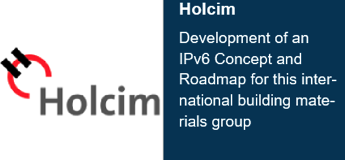 Would you like to learn more about INS AG, visit our homepage www.ins-ag.ch or contact us.
Products by INS Engineering & Consulting AG

INS provides IPv6 Expert members 5% discount on IPv6 services such as consulting, address planning, deployment, etc